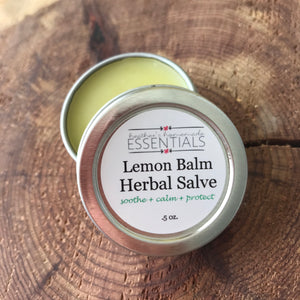 Heather's Homemade Essentials
Lemon Balm Herbal Salve w/ Calendula
Lemon Balm/Calendula Herbal Salve
*Great for all natural cold sore spot treatment. 
This all natural balm is made with: olive oil infused with lemon balm & calenudula, coconut oil, beeswax, tamanu oil, castor oil, essential oils of: peppermint, tea tree, clove. 
Lemon Balm: Potent antiviral. Several studies have been carried out demonstrating that lemon balm can improve cold sore symptoms and shorten the duration of healing time
Calendula: Great for soothing skin irritations. 
Coconut oil: Antiviral.
Castor oil: Allows balm to go on smoothly.
Tamanu Oil:  This oil is amazing for a magnitude of skin conditions.
Peppermint Oil: cooling, analgesic.
Tea Tree Oil: Effective against Herpes Simplex.
Clove Bud Oil: For pain relief.
This salve should be applied with a clean finger or cotton swab. Be sure to avoid 'double dipping' so you won't contaminate your lip balm. This balm can also be used as an all purpose salve, suitable for minor scrapes and patches of dry skin.

Caution: For external use only. Keep out of reach of children.
Possible skin sensitivity. Discontinue use if adverse reaction occurs.

------------------------------------------------

Individual results may vary. Remember that different oils work for different people. It is not guaranteed that this specific blend will work for you. I do, however, want you to be happy with your purchase. If you are dissatisfied with your product for any reason, please contact me. Also, please don't hesitate to contact me with any questions or concerns! I am more than happy to help! 

Disclaimer: All information contained is for reference purposes only and are not intended to substitute the advice given by a pharmacist, physician, or any other licensed healthcare professional. Our products have not been evaluated by the FDA and are not intended to diagnose, treat, cure, or prevent any health condition or disease.

Although essential oils are considered safe and natural, they should not be used on babies or during pregnancy/nursing unless approved by your physician.

---
More from this collection