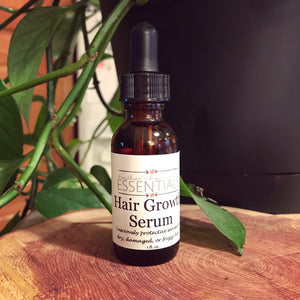 Heather's Homemade Essentials
Hair Growth Serum - All Natural + Nourishing
Hair Growth Serum 
Deeply nourishing + stimulating.
To use, apply a dime size amount to palm and massage into scalp and hair. Leave in for at least 30 minutes before washing hair as normal. For best results, use at least once a week. 
 
Ingredients: coconut oil, jojoba oil, apricot kernel oil, essential oils: rosemary, lavender, peppermint, and clary sage. 

Coconut Oil: Vitamins and essential fatty acids nourish the scalp and help to remove sebum build-up from hair follicles.
Jojoba Oil: Helps remove sebum to promote hair growth. Also adds nutrients to protect hair strands from breaking and/or drying up while adding moisture to the scalp.
Apricot Kernal Oil: Contains oleic acid, which is an omega-9 fatty acid and a wonderful emollient that makes hair and scalp softer and more pliable. It also contains linoleic acid, which is a fatty acid that controls or keeps moisture in the hair and scalp. It benefits hair by stimulating hair growth while staving off moisture loss. 
Rosemary Essential Oil: Stimulates hair growth. Many people also claim that it may prevent baldness, slow graying, and can be used for dandruff and dry scalp.
Lavender Essential Oil: Deep conditions hair, keeps hair shiny, and helps control dandruff. 
Peppermint Essential Oil: Stimulates hair growth by increasing blood circulation.
Clary Sage Essential Oil: Promotes hair growth and stimulates the scalp. Can also help balance scalp oils.
 
Contained in a 1 oz. amber dropper bottle. 

Caution: For external use only. Keep out of reach of children.
Possible skin sensitivity. Discontinue use if adverse reaction occurs.

------------------------------------------------

Individual results may vary. Remember that different oils work for different people. It is not guaranteed that this specific blend will work for you. I do, however, want you to be happy with your purchase. If you are dissatisfied with your product for any reason, please contact me. Also, please don't hesitate to contact me with any questions or concerns! I am more than happy to help!

Disclaimer: All information contained is for reference purposes only and are not intended to substitute the advice given by a pharmacist, physician, or any other licensed healthcare professional. Our products have not been evaluated by the FDA and are not intended to diagnose, treat, cure, or prevent any health condition or disease.

Although essential oils are considered safe and natural, they should not be used on babies or during pregnancy/nursing unless approved by your physician.