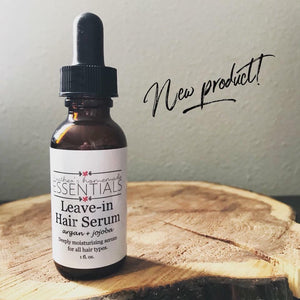 Heather's Homemade Essentials
Leave In Hair Serum w/ Argan & Jojoba Oil
A little bit about the Leave-In Hair Serum.💁🏽‍♀️
▪️Helps tame fly-aways, softens brittle hair, moisturizes, protects, and even leaves a natural botanical scent.
Ingredients: Argan Oil, Jojoba Oil, Essentials Oil: Lavender, Rosemary.
▪️Argan Oil - often called "liquid gold". It contains vitamin E, antioxidants, and fatty acids. It helps fight dry scalp/dandruff and tames frizz. It also promotes healthy hair growth, as well as adding shine and manageability.
▪️Jojoba Oil - closest oil to the body's naturally produced sebum, which allows for quick absorption and reduces any "greasy" feeling. It is nutrient rich and promotes growth while deeply nourishing the hair. Can also prevent hair loss and promote hair thickness.
Basically this serum is PACKED FULL of amazing vitamins and nutrients that your hair will love!!💜