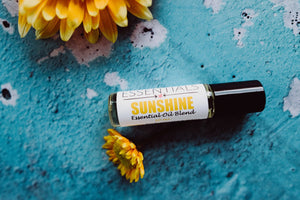 Heather's Homemade Essentials
Sunshine Essential Oil Blend
Sunshine Essential Oil Blend.
For winter blues & feelings of sadness.
Supports feelings of peace, grounding, and happiness on even the darkest days. This blend is uplifting and motivating, and calming with notes of citrus & woodsy essential oils.
Ingredients: fractionated coconut oil, essential oils: wild orange, ylang ylang, cedarwood, frankincense  

Contained in a 10 mL glass roller bottle.

Caution: For external use only. Keep out of reach of children.
Possible skin sensitivity. Discontinue use if adverse reaction occurs.
Contains photosensitive oils. Avoid direct sunlight and UV rays for up to 12 hours after application to skin. 
------------------------------------------------

Individual results may vary. Remember that different oils work for different people. It is not guaranteed that this specific blend will work for you. I do, however, want you to be happy with your purchase. If you are dissatisfied with your product for any reason, please contact me. Also, please don't hesitate to contact me with any questions or concerns! I am more than happy to help!

Disclaimer: All information contained is for reference purposes only and are not intended to substitute the advice given by a pharmacist, physician, or any other licensed healthcare professional. Our products have not been evaluated by the FDA and are not intended to diagnose, treat, cure, or prevent any health condition or disease.

Although essential oils are considered safe and natural, they should not be used on babies or during pregnancy/nursing unless approved by your physician.
---
More from this collection